Want to know one of the reasons India House is such a great place for backpackers to stay? Because the owners are still known to lug their packs around the world as well. Here's an account of John's latest trip:
Trek to Cambodia and Thailand
Hi fellow travelers:
I took a backpacking trip to SE Asia, in particular Cambodia and Thailand in October and November. It was a return to a region I adore so much.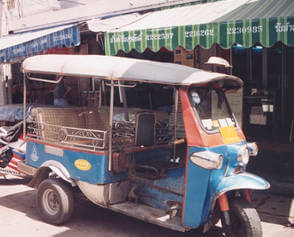 A Tuk-Tuk Briefly staying on Koh San Rd in Bangkok, this area is now as far removed from backpacking as it can ever be. Teeming with tailors, e-mail facilities, Boots Pharmacy ( a British chain store even) and Italian, Mexican and Indian cuisine………… what a change from the 1980's. None the less it is still fun and adventurous. I stayed in the Koh San Palace Hotel a little more than a hostel but only costing $15.00 a night to avoid the blaring din of tuk-tuks as they screamed thru the night, along with various "euro-music" tunes pumping from street cafes.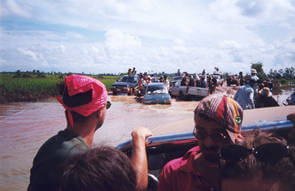 A few days later compliments of "Mr. Tiger" at Pilot Tours in the Hotel Alleyway travel kiosk I was Air-con bus bound to Surathani the countries southeast harbour town to the Islands of Ko Samui, KO Pha-ngan and KO Tao. Having seen KO Samui years before even electricity was available on the Island and now with "Go-Go- Bars" and an Airport, I moved on to KO Pha-ngan. There, amid the chaos on the pier, I followed a chap called "Noom" to the off the beaten track "Haad-Soon Bungalows" all the way up to the NW side of the Island.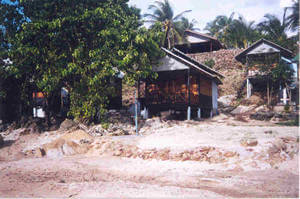 Idyllic is not the word, breathtaking more like it. Bungalows start at 150baht in low season up to 350baht depending on how close you are to their private beach. "Koom" the Owner cleans it each morning and between relaxing in your hammock on your verandah, dining in the casual beautiful handcrafter restaurant or tanning on the beach, you will feel like it's paradise. I left Haad Son Bungalows the day after a "full moon " party at Haad Rai on the SE side of the Island. Great party if you like the "western culture" invasion of a paradise Island.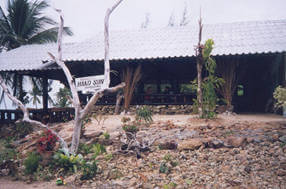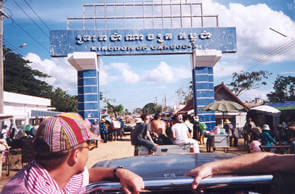 Journeying on back to Bangkok, I then moved on too Cambodia via minibus to the Cambodian border at Poipet. "Mr. Tiger" again helped with visas and transport. The reality of the poverty was apparent. There followed a two day trip to Siemerep, the closest town to Anghor Wat, the famous temples built in the 10th century by the Khmers. The roads have not been re-paved in 30 years since the communist revolution war engulfed the country in the mid-70's. Traveling with 10-12 persons in the back of a pick-up backpacks included is the only way to get there, other than flying. But you will miss the sheer adventure of this experience. Siemerep is close to the ruins of Anghor. Try a stay at "Orchidae" Guest House, House # 239, where clean rooms and plentiful "moto" transport abound. You need a "moto" driver to get you about this area…..see for yourself. Foreigners are not "legally" permitted to rent "moto-bikes" without a driver and I agree after seeing the roads. Some try to avoid this and cut costs. Saving $5.00 and wrecking your bike hardly seems worth it.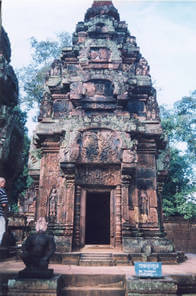 After Siemerep I took a dubious ride down the Tonle Sap lake and river to the capital of Phnom Phen. I suggest staying above board and close to "the bridge". Safer in case of capsizing and dryer for sure. The boat design is old Malaysian and rumored to be unstable. A backpacker rumor or not I was not taking a chance. But it was wet in the area I avoided and I felt unstable on many a moment.
Orchidae Guesthouse Phnom Phen is growing and getting busy. Staying by the river is preferable, try Guest House # 9 , Street #93,cheap at $3-4 a night. On the water and very friendly cool place. I loved it. Out on the street I met a great British guy selling the best sandwiches in town. 'Cafe Sonteiheap", (Peace Cafe) on Street 86, he has beers and great food. Drinking 'til sun up was a time after all my trekking and preparing for the next days ahead. You must check out the" killing fields" (moto driver required again ) and the Toul Svay Prey High School museum for a worthy look at the countries horrific past. It will move you, if not bring a tear to your eyes.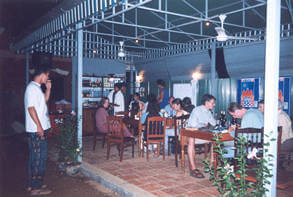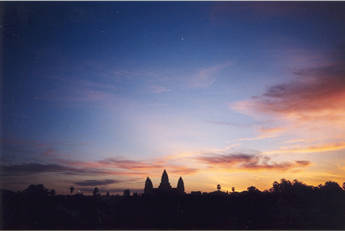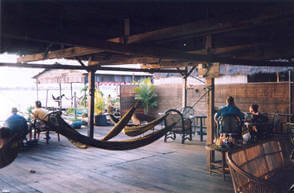 Market Day! I returned to Thailand by taking a bus to the coast and various boats back up the coast from Sianoukville to KO Krong and bus from there to Trat in Thailand and on to Bangkok. After a return to Haad Son Bungalows to revive myself I was sadly ready to return to New Orleans.
In summary it was amazing and my story is abbreviated for the web site. But if you wish to learn about cultures, and see people less fortunate than yourself, yet more alive, try a trip to SE Asia and in particular Cambodia, where the struggle to rise from the ruins of the communist revolution in the 1970's, is a picture in human endurance.